In 1986, 20-year-old Mike Tyson became the youngest heavyweight champion in history after knocking out 33-year-old Trevor Berbick in just 5 minutes and 35 seconds.
He subsequently earned further notoriety by biting Evander Holyfield's ear during a rematch in 1997.
It's been over 15 since Tyson retired from professional boxing in 2006 at the age of 40.
You would think that his boxing skills would be rusty by now, right? (He is turning 53 years old this coming June!)
But from what we can see, "Iron Mike" Tyson can still pack a mean punch.
You see, footage of Tyson throwing punches has resurfaced on the Internet (see video below). The video that was uploaded on Twitter by 'BoxingL1fe' has been viewed more than 2.7 MILLION TIMES when this article was published.
Iron Mike still got it ? pic.twitter.com/S0dGHXnOG3

— Boxing Life (@BoxingL1fe) March 3, 2019
Netizens have, among other thing, described the footage as both "mesmerising" yet "terrifying".
However, one website pointed out that the clip was in fact from the shooting of the 2017 action flick 'China Salesman'.The film wrapped up shooting in August of 2016, so Tyson was probably nearing his 50s when the video was shot.
We here at Neue were interested to see what our local friend, Aaron Lim, had to say about the video. After all, he did win the 60kg Professional ISKA K-1 title belt at last weekend's 'Strike: Redemption' Amateur Boxing & Kickboxing Tournament!
Powerful!
Speaking to Neue, Aaron said: "The video is terrifying, isn't it? Seeing how how he still moves in that video and how is able to generate force. You can tell those punches would have done some damage!
"But for people like 'them' I'm not surprised.
"When I say 'them', I mean people who have begun training at a young age. Their central nervous system is just so used to the movement and production that they are able to maintain it even thought they have not trained for sometime.
"I believe that Tyson started training with the legendary boxing trainer Cus D'Amato when he was a teenager until he became an adult. It comes to no surprise that the moves are ingrained into their muscle memory and central nervous system."
Peek-a-boo!
Explaining further about the video above, Aaron, who is the Founder and Instructor of 'Project Mayhem' (@theproject_fightclub), said: "Tyson was demonstrating his 'peek-a-boo' – his main style during his boxing career. The 'peek-a-boo' involves a lot of slips and ducks and a high guard."
According to Aaron, it is indeed impressive that Tyson can still move like that for his age. "Ultimately, it all comes down to the years of training embedded in him," he said.
Teach Us The Moves!
According to Aaron Lim, this video above is no Mike Tyson-level 'peek-a-boo' (i.e. terrifying level) but Project Mayhem can teach some proper techniques for sure!
Project Mayhem has two branches – one in Seria Plaza (since 2015) and Setia Kenangan 2 in Kiulap (since February 2018). And Aaron said that Project Mayhem can definitely teach this move to anyone interested.
"We have 2 main coaches at Project Mayhem – Coach Ken and me," he said, adding that they both love boxing and Muay Thai, which are their main arts. "We both choose to focus on striking in Brunei, mainly boxing, K-1 and Muay Thai."
Mike Tyson versus Aaron Lim? Who would win?
Well, here's what the 34-year-old Bruneian had to say: "He would have taken my head off! No one messes with Mike Tyson!"
There you have it folks! 'Iron Mike' Tyson's still got it!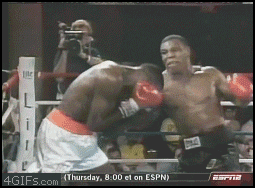 So, would you still dare to pick a fight with him?