Welcome to another edition of "What's Neue from 9 to 5". In this segment, 9 questions would be about people's opinion on general and everyday things, while the last 5 questions would be fairly chill and more tongue in cheek.
Speaking to Neue this week was Phoebe Chok, who is currently pursuing a Bachelor's Degree in Chemical Sciences at Universiti Brunei Darussalam (UBD). She'll be graduating this August/September.
Phoebe is a model, model mentor, instructor (now!) and a Body-Positivity Advocate based in Brunei Darussalam. She has also worked with regional, reputable designers, companies and house-brands.
Speaking to Neue, Phoebe said: "I am all about having a healthy lifestyle, meaning that I care about what I put inside my body and how I balance it out with fitness.
"I swim a lot and do a lot of weight training from time to time, it is incredibly therapeutic for me.
"I also play the violin and piano (surprise surprise!), also a sort-of relaxing therapy for me, listening to a variety of classical music to wind down and have my 'me-time'.
"What else? I'm a hopeless romantic, a doggy-lover and have great love for 70's to 80's rock and metal music.
"I grew up to both my mother and father bangin' their heads to rock and metal bands from their era!
"Ok, there's so much more to say but that's it for now! Hahaha!"
Her drive in life are her parents, especially her late father, who passed away in September 2018.
She said, "My father was an incredibly passionate, hard-working man when it comes to fashion and being self-taught in sewing.
He honestly had more failures than successes, but he has never ONCE given up on his family … he may have given up on himself, but he has never given up on me with my passions in life.
He had many dreams he wanted to fulfil, but it was unfortunate he couldn't live longer to finish it, hence it has become my legacy to finish what he started."
The Tough 9'ers:
1. If you could have lunch with one famous person, who would it be?
I have a lot famous people that I would love to have lunch with, this is incredible hard!
Ummm … Naomi Campbell, definitely my top one, just because I have too many questions to ask her about the fashion industry as she has been in the business the longest and also with being a Supermodel of colour.
I would personally want her to mentor me, inside and out of the business. She is deemed as the "Queen of Catwalk", and the longest, living legendary Supermodel in the modelling industry. Come on, who does not want her to be a personal mentor … right?!
2. Who performs the most random acts of kindness out of everyone you know?
Nicole Ang, one of my closest and best friends.
We only met in 2012 and only started being very close in the beginning of 2013, so not very long, but you can just tell who's genuine and who's not. I can only say that the longest friendships may not actually last, I have to stop being incredibly naïve!
Ugh! Anyway, she has done so many things for me personally.
For example, helping me out with food when I have literally nothing, no money; picking me up all the time whenever I needed help or someone to talk to or whenever I cry; giving me motherly advices and then telling me "I told you so!" whenever I decided to be stubborn; always giving me support and encouragement in whatever I am doing.
Trust me, there is so much more for me to say.
How do I sum up this friendship? I am the annoyer and she is the tolerator. Hahaha!
She would definitely agree with this.
And honestly, she is basically a genuine, kind person to all that she meets and she is the same with all our other friends, not just me. 
3. What's keeping you busy these days?
Leading a student lifestyle, part-time jobs and now jet-setting with finding work overseas.
It is not easy finding work and money, especially now that there are less jobs available.
Even if it means for me to take a risk, I would do it.
Now, I am trying to work on becoming an online-instructor with KL-based company, "Planet Mahir" and also trying to work on my new modelling workshop/masterclass locally as well.
Basically, all-in-all, trying to figure out my life choices and skills and put it to good use. 
4. What's something you always wanted to try but were too scared to do?
I've always wanted to try "ghost-hunting", by going to 'haunted' places around Brunei with the highest paranormal activity and even overseas as well. Hahahah!
I shouldn't even be thinking about this, but that is something that I am immensely intrigued with.
I'm too scared anyway and always chicken out, but yes, kids … do NOT do this at home!
Don't even think about it, if you do, please please please go with a professional.
5. What did you want to do with your life when you were 10 years old? What would your 10-year-old self say to you now?
Wow … 10 years old … well, I wanted to be a solo violinist or an orchestral violinist, playing with the best orchestras in the world.
I was very much in love with classical music and instruments, and being a performer, I loved it very much.
But lo and behold, look at what I have become at 24 years old; incredibly different than what I last wanted to be! 
She would say to me now, "You are strong, look at how far you've come! With all the obstacles that you've gone through, you have blossomed into somebody that I have never thought that I could be. Believe in God and never stop believing and have faith in him, everything is by his timing and he only wants what's best for you. Only God knows best. Don't give up on your dreams, work towards it and always remember where you came from."
6. What is something you look for in a partner?
A good question … I look for respect, sensitivity, independence, career-minded and emotional maturity in a partner.
Nobody is perfect, but if we could work towards a goal together and be the best version of ourselves, then that would be wonderful, wouldn't it? 
Another bonus would be if my partner was physically affectionate. Haha!
And I'm serious when I say that, I don't think I'll be able to tolerate it if he wasn't because I am a very affectionate person myself and I crave affection.
That sounds very strange, but you know what I mean! 
7. After a breakup, would you rather be alone or be surrounded by friends?
I have to be surrounded by friends, I cannot be alone after a breakup.
If I'm alone, I would overthink too much as I do suffer with severe anxiety, so I may actually do more harm to myself if I didn't have anyone with me.
Even if it's just one person, like my mother for example, it's still good and it's better than nothing.
But obviously, I have to be alone sometimes and I cannot force my friends to be with me all the time, hence I try to be productive with my time and do things that I love in order to distract my brain. 
8. What persuaded you to venture into the modelling world?
Honestly, I never thought of doing modelling or was really persuaded into doing it.
It just sort of happened for me where I was scouted out by a local fashion designer here, and my career just took off from there.
Initially, I was brought up in a fashion and beauty household with both my parents owning a boutique and salon in Brunei.
I grew up with beautiful clothing, beautiful people and fashion magazines.
I always thought of how it would be to be a model on a cover of a magazine or a talent in music videos, but then I looked at myself in the mirror as a chubby child telling myself that I could never be a model or a even just a beautiful woman.
I let that unrealistic dream slide until the day I turned 20 where I was scouted out as a revamped person that has lost an incredible amount of weight and who has changed her entire appearance.
From there, I happened to love modelling a lot and it really helped me with the loss of confidence I had.
9. What are the challenges faced by this industry in Brunei?
Honestly, the modelling industry here does not have a market as other regional major cities such as Kuala Lumpur, Singapore or Bangkok.
And these cities are very cosmopolitan, with a larger population and composing of people from a variety of cultural backgrounds, talent and creativity.
There isn't so much a great market here and as a model based in Brunei.
In fact, it is often quite difficult for me to find jobs as I am not so much deemed as a type of 'beauty' here even though yes, beauty is subjective or that I have been deemed as too 'tall' or my race as a Bruneian-Chinese.
The modelling or fashion industry here is just not as big and that it is not really deemed as a career unless you are designing bridal-gowns for example, where people are being married all the time, then yes, there could be a market for that.
But if you are expanding into a more … let's say, haute couture or high-fashion, it is going to be incredibly difficult as the people here are more reluctant with something that's too overly-exaggerated or dramatic as opposed to something that's more wearable.
All in all, you just have to see what's the market here and add some of your own flavour into it! 
The Easy 5'ers:
1. If you had a superpower … what would it be?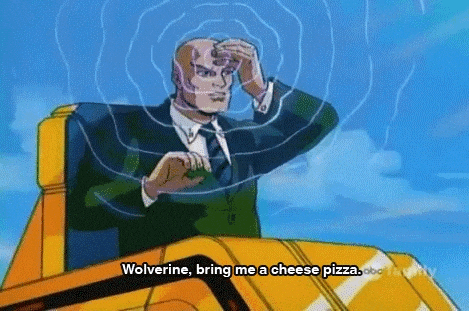 Much like Professor X'avier from X-Men. I would love to read people's mind, see what they're thinking and feeling emotionally too.  Now that would be a total breach of privacy! Haha! So that I could see who are genuine people and who are not, and that I could work myself around them.
2. Would you rather not be able to go out in the daytime or not be able to go out in the night time?
Well, relatively-speaking, I would rather not be able to go out in daytime if I was to work from HOME.
If I have the chance to work from home in the potential future, then I would be very happy to go out in the night time to spend time with friends and socialise with people.
I am honestly a hermit, especially in the morning to daytime, and I prefer it that way. But at night, it's where the party starts right?! Hahaha!   
3. What was the first movie you remember seeing in the cinema? What's your favourite movie of all time?
Oh goodness, I actually don't remember! I think it was "The Incredibles" back in 2006! It was a fantastic movie!
My favourite movie of all time would probably "The Princess Diaries". I used to be very obsessed with that movie as a child. 
4. How many types of poses (modelling) can you name in 10 seconds … and the clock starts NOW! Follow up question: What's your favourite fashion trend right now?
THE HEADACHE, THE STOMACHACHE, THE HIP ACHE, OUCH-BOTH-MY-BUTT-CHEEKS-HURT, THE NECK CRAMP, THE KUNG-FU SWAN … that's my way of remembering personal poses for myself! 
My favourite fashion trend of all time is the 'sleek-back' hair.
Having short hair, it is the easiest and most-functional fashion trend for me personally as it is incredibly elegant, neat and just shows off my bone structure.
'Sleek-back' hair will never go out of trend, and it works just as well for longer hair. 
I am confident with myself and I have nothing to hide, especially not behind hair. 
5. What's the one thing you still have from your childhood?
I still have my overly-dramatic and exaggerated event clothing that my late father has made and designed for me since childhood.
I kept them in good-memory and to HOPEFULLY pass on to my children in the future and for the next generation to come.
It is immensely sentimental to me because it is things that has been worked on by my father's blood, sweat and tears for his only daughter.
It will be kept in pristine condition forever. 
Bonus question: What would you like to say to all our Neue readers? Do you have any words or inspiration or a life story you'd like to share?
I would like to tell all of you to never give up on your dreams and ambitions, the more you take it seriously, the more successful you'll become.
Be realistic as well in order to fit the right market for yourself in terms of the modelling and fashion industry.
Take care of yourself first before anything as self-love, self-worth and self-respect needs to be the first thing that should be on top of anyone's bucket list. 
From a young, bullied and larger-sized student who had little to no opinions for herself back then to a self-confident and passionate woman today, anyone can do whatever they are set out to do.
Always be yourself, let your personality come through and one thing I have learnt being a model, is to NEVER be shy!
The following are some life quotes that I live by:
"If you don't love yourself, how the hell are you going to love somebody else??!" – RuPaul
"If they ain't payin yo bills, pay dem b*****s no mind!" – also from RuPaul
"A good model is a smart model!" – Tyra Banks
"Always always be beautiful everyday, no matter if you are going to a big red-carpet event or out for a coffee with your friends or to the grocery store." – Frau Jana Heilmaier (my German lecturer from UBD)
These are all simple quotes that I live by, some are incredibly funny, but they have helped me through all these years.
See You In The Next #Neue9to5
Be sure to tag your friends in the comments sections in Facebook or Instagram if you'd like them to be featured in the next #Neue9to5.